ABSS Accounting
Ideal for owner-operators, ABSS Accounting helps you process sales and purchases, track receivables, payables and GST, email your quotes and invoices and more – all with the click of a few buttons.
ABSS Accounting avoids accounting jargon and is easy to use. Its award-winning design guides you through the automation of your accounts, making it easy to track all your accounting data.
ABSS Premier provides advanced inventory, and business management capabilities to medium-sized companies. Process foreign currency transactions, GST submissions and analyse your business accurately.
You can manage even the most complex business with ease using the multi-user ABSS Premier.
The complete business management solution, ABSS Premier with the added power of ABSS Payroll. ABSS Premier Plus provides advanced inventory and business management capabilities to medium-sized companies.
It also comes with multi-user environment, foreign currency capability and stand alone payroll and leave management software.
ABSS Payroll gives you the power to process even the most complex of payrolls, in just minutes. As your business grows, managing your payroll can become very complex, very quickly.
Not only do you have to deal with employees expecting their pays on time and error-free, but you also have more employer obligations, a myriad of tax rates, and endless paperwork to contend with.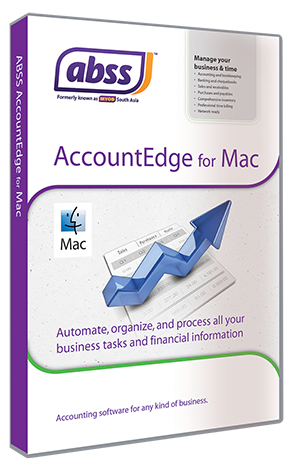 ABSS AccountEdge for Mac offers the most complete, easy to use accounting solution for mac-based small-businesses.
With over 100 business templates to choose from and our Easy Setup Assistant to guide you along the way, you will be sending quotes and invoices in no time.
ABSS BI4Cloud suits all businesses, whether it's small business owners to large organisations.
Free your self from spreadsheets today and never miss important exceptions for your business, even when you're on the move!
Financio, a product of ABSS, brings accounting automation to small businesses, redefining how small business owners handle accounting and tax tasks, taking accounting software to the next level.
QuikLink Remote Access
QuikLink Remote Access speeds up the multi-user ABSS environment, allows remote access to your ABSS host machine and effectively gives you your own private cloud.